Summerville, SC
Located in the thick pine forests 30 miles inland from historic Charleston, in the 1700s Summerville was a vacation spot for Charleston socialites seeking relief from the oppressive summer humidity and swarms of mosquitoes. Since then, a combination of affordable housing, some of the top schools in the state, and numerous recreational alternatives has made this small city one of the most desirable places to live in South Carolina.
For one week every Spring "Flowertown" truly lives up to its name during the Flowertown Festival
Town settlers attributed the lower incidence of mosquitoes to the blanket of pine trees that shade the area, beginning the love affair with the many species of indigenous pines that thrive in the sandy soil. To this day, laws prohibit the falling of these "fever-preventing" trees. Near the turn of the last century, the International Congress of Physicians declared Summerville as one of the top places in the world to live for suffers of lung disorders. At the time,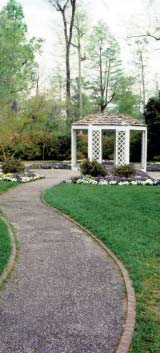 the prevailing medical belief was that the powerful scent of pine trees, still omnipresent in the area today, contained special healing properties. Thousands with respiratory ailments flocked to Summerville, and many fell in love with the intrinsic beauty of the small town and its towering forest. Though it is no longer a destination for the infirmed, it has remained a popular choice for relocating families and retirees alike.
For one week every Spring "Flowertown" truly lives up to its name during the Flowertown Festival. Held the first week each April, when the entire city is awash with color, the worldrenown festival draws artists and craftspeople from across the United States. The festival is the second biggest draw to the area next to Charleston's Spoleto Festival, also held during each Spring. Summerville has a growing population of over 30,000 and included all of the amenities one would expect of a city that size, including fine local eateries and chain restaurants, retail shopping, and health care facilities. Recreation is taken very seriously in the area, and Summerville is by no means short of recreational opportunities: from golfing and tennis to hunting, fishing and boating, and lounging on the area's fine beaches – all accessible within a half-hour drive.
The Francis Biedler Forest is also a short drive away, and on a rainy day, the Dorchester Museum is home to some of the oldest fossils discovered in South Carolina.