A Day on Daniel Island
Daniel Island is a Lowcountry destination sure to
fill your day with plenty of on-island activities.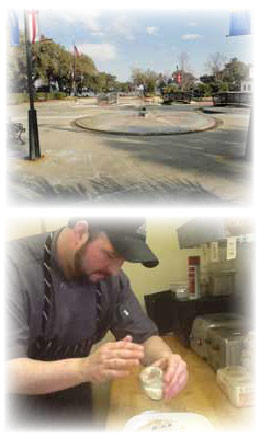 WALK
There is an unparalleled peacefulness about a stroll through nature with a good friend, family member or significant other. The soft Wando River waves brushing gently on the Daniel Island banks and the gorgeous overhanging live oaks draped in Spanish moss provide a soothing therapy that can't be found elsewhere. With miles of serene trails, Daniel Island is the ideal Lowcountry venue for a whimsical stroll.
EAT
And after your morning stroll, stop by Honeycomb Café, where the locals eat, to recharge. Executive chef Matt Gruber has designed a menu that "adheres to Charleston's home style cooking." Neatly nestled in Daniel Island's shopping district, the breakfast/lunch café is serving light, fluffy "whipped with love" pancakes to locals and visitors alike. "If you're doing a day on the island, you're going to want a meal to fill you up but not put sludge in your shoes – maybe our fresh blueberry pancakes and thicksliced bacon?" Gruber suggested.
Sounds good to me.
SHOP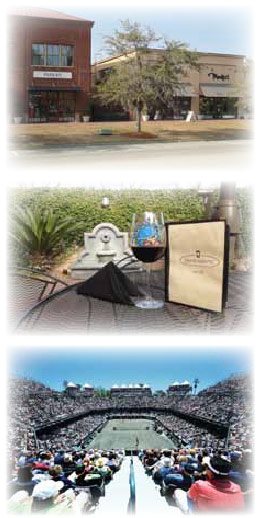 Re-energized by some good local eats, it's time to visit the Daniel Island Publix shopping center. Downtown Daniel Island, as it has come to be known, offers a variety of locally owned stores that are sure to take care of all your shopping needs. Whether it's an intimate massage at an islandthemed salon or that flawless summer dress at Paisley of Daniel Island, you'll find yourself smiling about what you'll find in this friendly neighborhood center – between bites of frozen yogurt.

After a full day of Daniel Island exploration, how about retiring to one of the many local full-service bars for a cocktail? From sake to margaritas and everything in between, the on-island bar scene offers drinks to fill the needs of any weary traveler. Bring your good moods and high spirits and leave everything else behind.
EVENTS
Whether it's a Hootie and the Blowfish concert, the Family Circle Cup, a Charleston Battery professional soccer game or a 5k run to raise funds to fight breast cancer, Daniel Island is your Lowcountry destination for fun and interesting things to do. Check out the list of upcoming Daniel Island events in the next issue of Mount Pleasant Magazine.