Daniel Island, SC
It took years of thoughtful planning and vision to make this thriving island town a reality. Up until a few years ago, the island, northwest of Charleston, was nothing but acres and acres of farmland and marshes. Now it is a nationally acclaimed neotraditional town designed to give residents and visitors alike, a true feeling of community – the slow paced, small Southern town feel in a modern setting.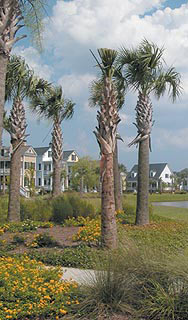 The development is designed to contribute to the feeling of community by keeping with many of the historic design features of the neighborhoods of downtown Charleston: homes are set close to the quiet, meandering streets to help give residents that neighborly feel, and homes feature large piazzas, ideal for chatting with neighbors. In a thoroughly modern vein, wide sidewalks have been designed to cross the island to make walking to stores, schools and parks a practical proposition. From dry cleaners to dentists, everything the community needs is right there on the island.
Though Daniel Island is a collection of carefully planned communities, considerable work has gone into maintaining the rural feel of the island, leaving large thickets of Spanish moss draped live oak and towering palmetto trees untouched, giving the newly developed island a well-established look and feel.
Homes are set close to the quiet meandering streets to help give residents that neighborly feel.
The island features several spacious parks with playgrounds and open grassy spaces, and is home to the newly completed Tom Fazio golf course that is rapidly getting a reputation as one of the best courses in the area. The island is also home to some of the top names in women's tennis who compete each April in the Family Circle Cup at the Family Circle Tennis Center. The newly constructed tennis stadium also hosts Davis Cup matches, local competitions, and is a favorite venue for concerts. The island is also home to Blackbaud Stadium, one of the country's premier soccer specific stadiums and the home ground for the 2003 A-League champions Charleston Battery.
Just minutes from Mount Pleasant and downtown Charleston, area beaches and the Wando River, Daniel Island's prime location offers residents almost unlimited recreational and cultural opportunities, making it ideal for families and retirees.
Daniel Island Neighborhoods

Neighborhood Real Estate
Barfield Park | Center Park | Cochran Park | Codner's Ferry Park | Daniel Island Park
Etiwan Park | Nelliefield Plantation | Pierce Park | Smythe Park