Johns Island, SC
While the rest of the lowcountry's population has boomed, spawning housing developments in almost every available square inch of land, Johns Island stands as the last bastion of the old South, in all of its rural splendor. And thanks to local and state legislation, the second largest sea island on the East Coast will retain its pastoral charm for decades to come. Some developers, however, have been allowed to establish residential communities on the island, creating beautiful and unobtrusive developments amongst the fields and marshes of the island. More and more, these developments are drawing retirees wanting to take that step back in time, when everything moved a little slower.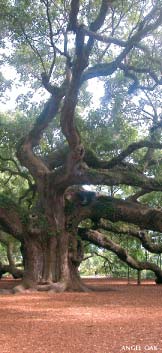 "The Angel Oak is estimated to be more than 1,400 years old."
As long as Charleston has existed, Johns Island has provided a majority of the city's fruits and vegetables. Even today, the top Charleston restaurants are loath to cook with anything that isn't grown locally. Farmers markets and roadside fruit stands are as common on the island as convenience stores.
But what the island is probably best known for is the Angel Oak. The best estimate scientists can give of the age of the tree is 1,400 years, but that was taken from a younger limb that broke free of the tree during a hurricane. It is thought the tree could actually be twice that old, but impossible to tell as long as the tree is alive. The massive tree stands 65 feet tall and has a circumference of 225 feet at its widest point. But what is most impressive about the tree is the 17,000 square feet of shade the tree casts. That's enough for the entire population of the island to stand under with room to spare.
Johns Island has seen an upturn in residential development in recent years. Potential homeowners are drawn to the island by the pastoral environs and all of the conveniences of suburban Charleston, now only minutes away thanks to the newly constructed Stono River bridges connecting the island with the 21st Century.
Probably one of the biggest draws to the island is the reasonable housing prices. The average single-family home on the island costs around $232,000, considerably less than on other island communities, especially on nearby Kiawah and Seabrook islands.
Johns Island is the ideal place for residents seeking the rural lifestyle with the modern world just a short drive away.