Daniel Island: Shop, Dine, Discover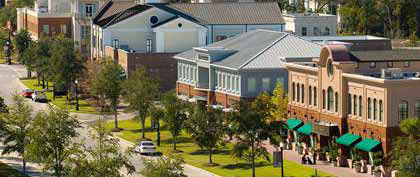 I lived in Charleston and worked in Mount Pleasant for more than a year, all the while completely unaware of Daniel Island. I had heard whispers of an annual Hootie and the Blowfish concert on the island and seen Serena Williams postured on the Family Circle Cup Stadium. I was intrigued, but I continued to pass by exit 24 on Interstate 526 until one autumn weekend when my always-inquisitive mother was visiting from Maryland. The aura of mystique about Daniel Island among my friends left me clueless about what to expect, but exploration has always been one of my mom's favorite activities. Why not, I thought, as we ventured onto the island.
As we left the familiar interstate, we were greeted by a welcoming row of shops and restaurants lining the island's main drag, Seven Farms Drive. Folks were out and about – walking their dogs and biking along the sidewalks. We drove by a park that seemed to be the epicenter of the day's activities. Our car slowed to a crawl as we watched kids play lacrosse and basketball and their parents cheer eagerly.
"I remember those days," my mom reminisced about my own youth sports career.
Later we made our way down to a more secluded park on the island and walked a trail that weaved along the Wando River shoreline. I was accustomed to Charleston's natural beauty, but I was taken aback by the gorgeous scenery Daniel Island had to offer. Comments such as, "I wouldn't mind living here" and other accolades began flowing from my nature-obsessed mother's mouth.
After about an hour of trail walking, we retired to a local café for a late lunch. The restaurant, Laura Alberts, a Daniel Island foodie favorite for more than a decade, offers handpicked craft beer and unique eats. Its community appeal mirrored that at the parks, in the shops, on the lacrosse field and along the sidewalks.
As we sat on the patio, welcoming in the dense evening air and munching fried green tomatoes, I couldn't help but wonder how and why it had taken me this long to make Daniel Island my Lowcountry destination for food, fun and family.