Mount Pleasant, SC
A vibrant thriving community rich with history and culture, Mount Pleasant was recently named one of the most desirable places to live in the country. And it is this acclaim that is attracting retirees to the area in record numbers.
"While Mount Pleasant has experienced tremendous growth in the past ten years, it has also preserved its small town feel."
Located across the Cooper River from the historic Charleston peninsula, Mount Pleasant has been a center of state and national history for over 300 years. The many colonial and antebellum homes in the Old Village draw tourists in numbers that rival those of downtown Charleston to wonder the narrow, oak lined streets. Of the numerous homes in the historical district, the most famous is Alhambra Hall, a favorite subject of local artists and photographers.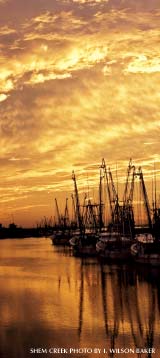 But as proud as Mount Pleasant is of its past, it is the city's ability to look toward the future that speaks loudest. A new state of the art bridge spanning the massive Cooper River is set to be complete in the summer of 2005. This marvel of modern architecture, costing almost $400 million, will replace the two existing bridges built in 1929 and 1966 respectively. The old bridges, both works of art in their own right, were considered to be ahead of their time when they were constructed. Upon completion of the new bridge, the old bridges will be dismantled and towed to sea to create man made reefs.
While Mount Pleasant has experienced tremendous growth in the past ten years, it also has preserved its heritage and small town feel despite a population of over 56,000. Newcomers to the area represent a good mix of retirees, baby boomers and growing families. Many retirees choose Mount Pleasant because of the town's proximity to the area's many fabulous golf courses, water sports, the mild year-round climate, and nearby state of the art medical facilities. Mount Pleasant is also home to some of the finest shopping in the region. The newly constructed Towne Centre offers shoppers a wide selection of goods from both national and local merchants, as well as over a dozen dining alternatives.
Picturesque Shem Creek, which bisects the city, is home to one of the last fleets of local fishing boats in the area. Every day residents can take advantage of the fresh off-the-boat seafood for sale on the docks