Michael's Barkery Pet Spa & Boutique in Daniel Island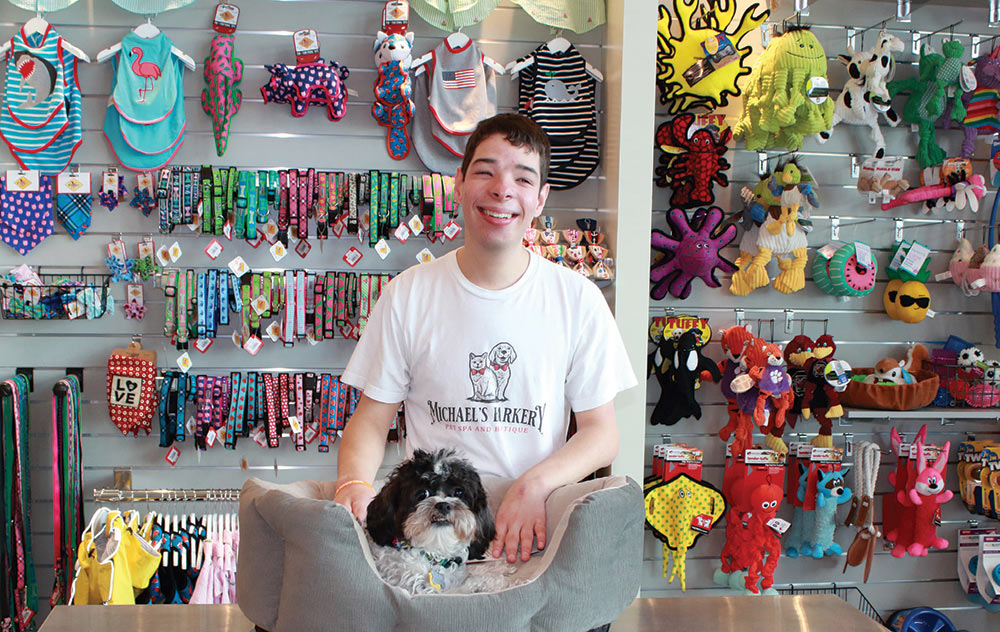 When Michael's Barkery Pet Spa & Boutique opened on Daniel Island in November 2019, the local community of pet owners embraced the new store, appreciating access to top-quality products, professional grooming services and specialty baked goods. Located in a walkable section of the island, heading to Michael's Barkery makes a fun field trip for pets and owners alike.
Michael's boasts three grooming stylists, ready to coif your pet to perfection. Each of the stylists is a pet parent too, and they work to ensure all furry clients are comfortable and enjoy a stress-free experience at the spa. Worried how your new pup or rescue pet will take to being handled by a groomer?
Relax – these professionals offer an introductory appointment, where they slowly introduce the pet to the tools and the environment in a manner that establishes trust.
Moving into the kitchen, the "barkery" portion of Michael's is manned by Master Chef Kaylyn Millington, who holds a Bachelor of Science in baking and pastry from Johnson & Wales University. Having worked in the food industry for the last seven years, she is thrilled to be at Michael's, where she is able to indulge her love for animals with her passion for baking and produce healthy, tasty treats for local pets. The bakery offers custom baked goods, as well as grab-and-go treats for any celebration. Millington and her teammates also enjoy creating custom bulk orders for pet friendly hotels, apartment complexes and real estate offices – they've even had a request to augment catering at a wedding reception.
Perhaps the most interesting part of the story is the original inspiration behind the business. In 2017, Michael Patrohay, a high school senior at the time, was required to complete a project relative to his career aspirations. For Michael and his beloved dog, Sunshine, the answer was simple — bake and sell wholesome dog treats. The idea was greeted with tremendous success, and, two years later, Michael's family was able to transform a senior project into the sustainable business we now know as Michael's Barkery. That's enough of a tale in itself, but add to the story Michael's intellectual disability, and it becomes a heartwarming testament to following one's passion and overcoming obstacles.
The store's owners, Karen and Scott Patrohay — Michael's parents — wholeheartedly believe in giving opportunities to people with cognitive limitations, choosing to maximize their skills rather than focus on disabilities. They employ specially-abled staff members in all areas of production, for the bakery as well as the retail space. "At Michael's Barkery, we want to give everyone the opportunity to have a purpose and allow everyone's gifts and talents to shine," remarked Karen Patrohay.
Currently, Michael's Barkery consists of 16 employees across grooming, retail and management, including six specially-abled teammates. They recently added obedience training to the menu of services, offered through an associate who is also a dog trainer, with a Bachelor of Science in animal behavior, ecology and conservation. The entire staff has taken great care to build a business with enthusiastic people who love your pets as much as you do.
When asked what Michael thinks of his success, the Patrohays said: "Michael is very proud of his store and can't wait to go to work every day. What brings the biggest smile to his face is when we bring up the store's YouTube channel. He thinks that is pretty cool."
To learn more, visit MichaelsBarkery.com, or head over to their storefront, at 864 Island Park Drive, Ste. 103,on Daniel Island.
By Jeanne Taylor